GCSE Options
Choosing the correct GCSE Options is no easy task. We're here to offer as much guidance and support as we possibly can.
On this page, you will find the main GCSE Options presentation, alongside information presentations for all of the available GCSE option choices. We hope these answer many of your questions.
Choosing your 4 GCSE Options
The video below shows how to submit option choices. They will open on Insight on Wednesday 27 January. The closing date for all option choices to be submitted is Wednesday 24 February.
GCSE Options Q&A
Q: What is the EBacc pathway?
A: The main pathway is the recommended pathway for all students, and is what the government refers to as an "English Baccalaureate (EBacc)" suite of subjects – that is, English, Maths, Science, a Humanities subject (History/Geography) and a Language subject (French/Spanish/German). We will provide more details on how to request to opt-out of this pathway shortly.
Q: What is the code to access Fast Tomato?
A: CCHN

Q: Why is Insight not open/available yet?
A: Students need appropriate thinking time and discussion time before submitting their options. We also recommend waiting until students have had the opportunity to experience the taster sessions before submitting their choices. The options are not allocated on a first-come, first-served basis so there is no gain in rushing the submission – all responses by the deadline are considered equally.
GCSE Taster Sessions
Please see below a copy of our Year 9 taster sessions timetable, the sessions highlighted in green are compulsory and students must attend an additional four sessions.
There will be optional work assignments set by English, Maths and Science for those wanting some work to fill any gaps in their timetable.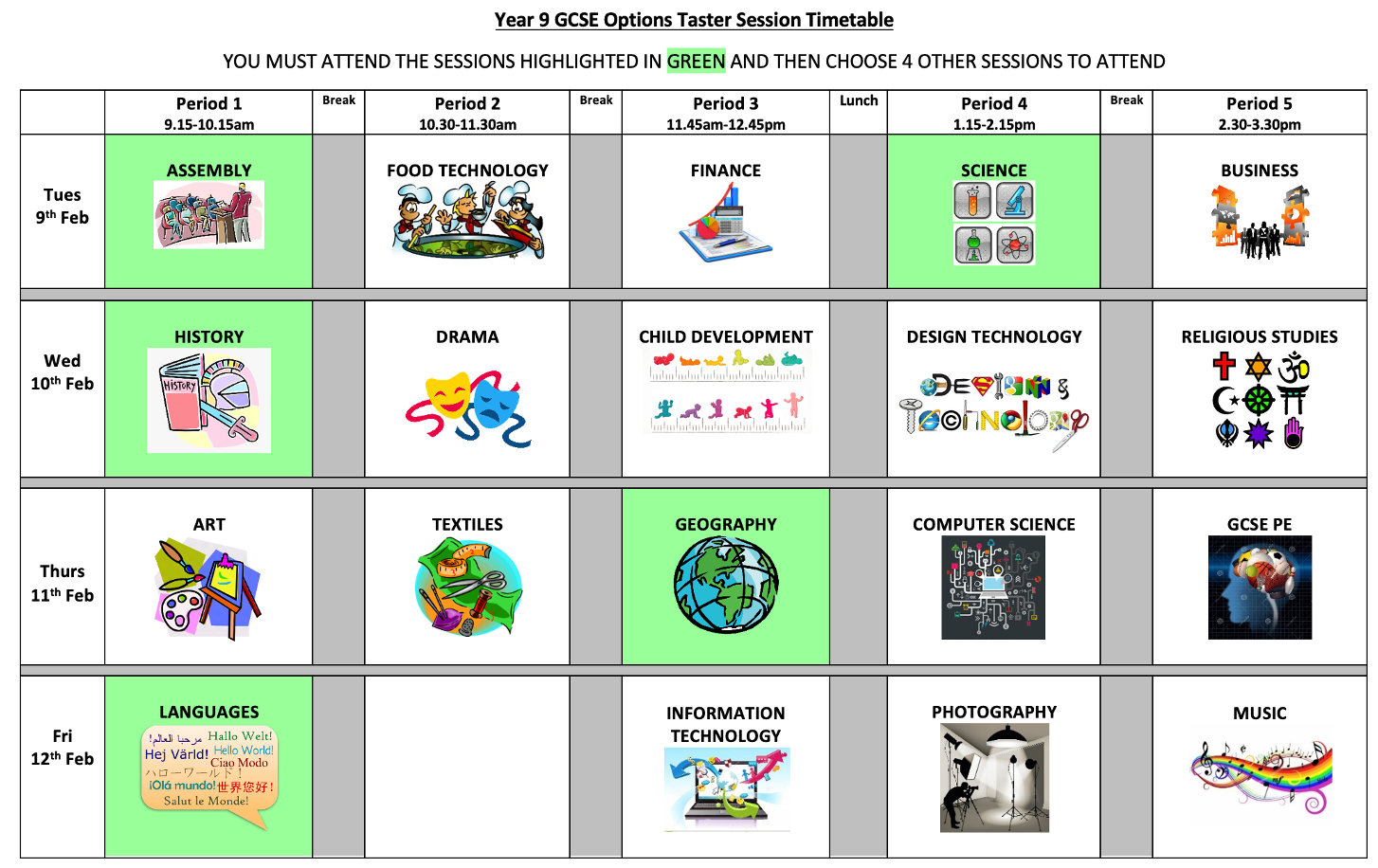 Subject videos