Community project commission with Wootton Parish Council
Towards the end of last academic year, we were approached by Wootton Parish Council with a proposal to help them enhance the look of the recreation ground, by painting a mural on the shelter. Our A level Fine Art students were given a brief by the Parish Council, and then they set about producing designs in response.
The chosen entry was a joint design by Johanna Maoko and Meryem Sezer in Year 13. The Parish Council then disassembled the shelter and transported it to CCS where the students were able to begin work on it in the lower E block gallery area. Due to their A level commitments, Johanna and Meryem had to hand over the reigns to our Year 12 Fine Art students. Thomas Atkinson, Abby Wood, Sophie Tizzard, Hannah Denness and Abi Larner all helped paint the design, in conjunction with Teacher Mr Dawson and Art Technician Minnie Teckman.
We are delighted to say that the shelter has just been re-erected in the recreational ground in Wootton for the whole community to enjoy. The Parish Council are absolutely thrilled at the outcome, and we look forward to more collaborative community work with them.
The shelter before the restoration…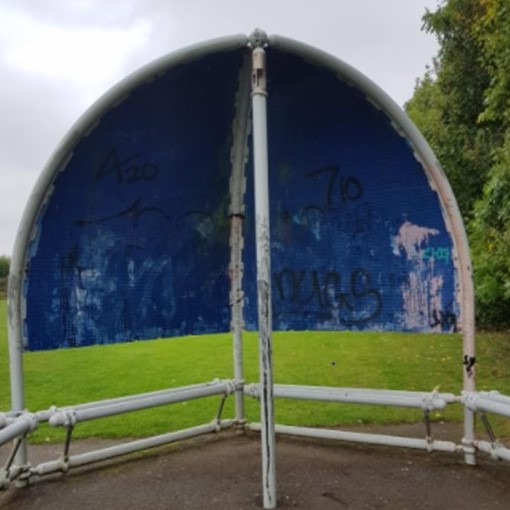 and after!