GCSE Guided Choices
Choosing the correct GCSE choices is no easy task. We're here to offer as much guidance and support as we possibly can.
On this page, you will find the main GCSE choices presentation, alongside videos for all the available GCSE subjects.
We have a virtual Parents' Evening on Wednesday 8 February for parents and carers and students to discuss their thoughts and suitability for the GCSE choices with their teachers.
Year 9 students will be able to begin selecting their GCSE options starting on Thursday 9 February via the options portal, Edval. All students will receive a unique code to their school email account, which will allow them to log in to our options portal and select their GCSE choices. Please view the video below for more information on this process.
Bookings for our Faculty Leader KS4 Support Clinic will be sent out via email on Thursday 9 February to Year 9 parents and carers.

The closing date for all option choices to be submitted is Friday 3 March 2023.

Choosing your Key Stage 4 GCSE choices

A reminder that as well as all compulsory subjects for students (English, maths and science), they must choose a humanities subject of either history or geography, and one language (French, German or Spanish).
Students then have two 'open choices' available from the list below. Exceptions will be made for students with an Education Health Care Plan (EHCP).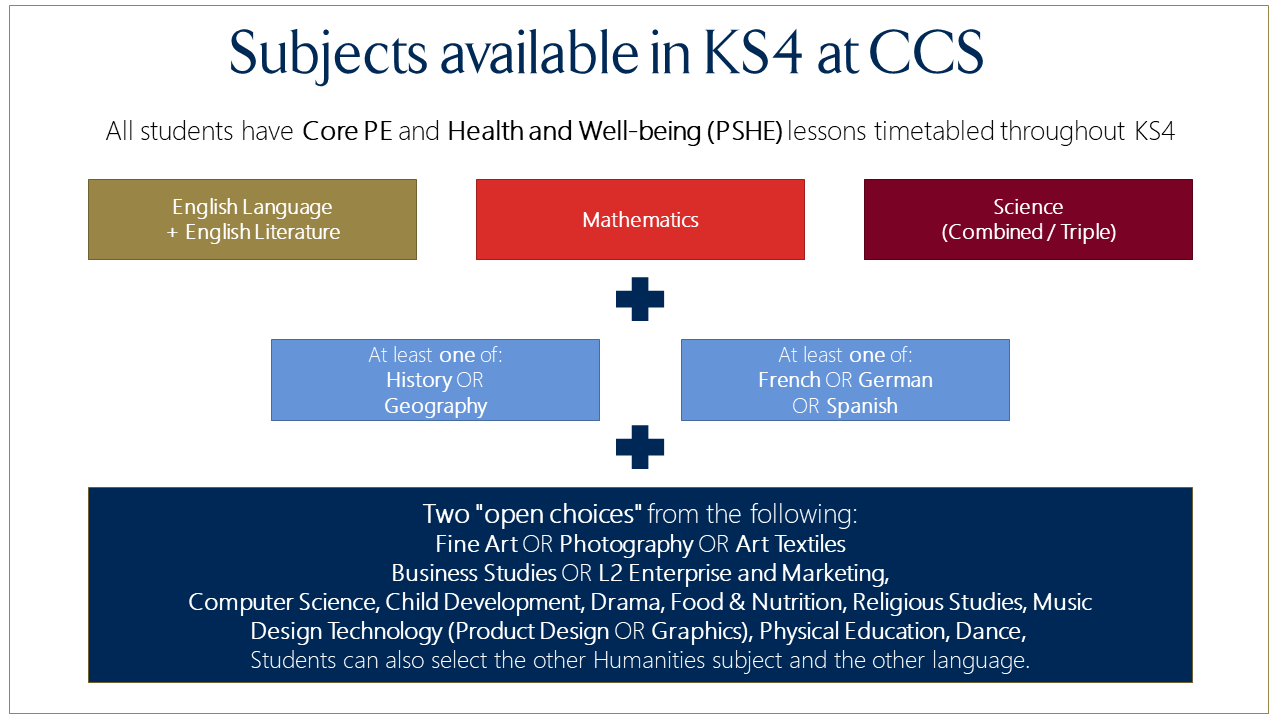 How to submit your GCSE choices
Please watch the video below for a detailed walkthrough of how students can submit their GCSE options via our options portal, Edval. Students will receive their welcome email with the code they need to log in on Thursday 9 February.

Dropdown Q&A GCSE Options

Q: Can I submit my option choices early?
A: The options are not allocated on a first-come, first-served basis so there is no gain in rushing the submission – all responses by the deadline are considered equally.

---

Q: Can my child opt out of languages?
A: No, a language forms part of our compulsory offer. Students have to study a language based on what they've studied up until now. Exceptions will be made for students with an Education Health Care Plan (EHCP).

---

Q: For photography do you need to buy a camera?
A: Cameras are provided at GCSE level in Photography, there is no expectation for cameras to be bought for students.

---

Q: Why do students need 2 reserve choices?
A: A course will only run if there is a sustainable number of students selecting that subject and there is sufficient staffing. The reserve preferences need to be carefully considered as they may be required should a subject not run.

---

Q: Do students of Food Technology have to take ingredients into school frequently?
A: During Year 11, where there are more formally assessed practical tasks, students cook approximately every 2 weeks, although this can be more frequent at times. Students are expected to bring their own cooking ingredients and containers, but parents will always be informed of the required items at least 1 week before the practical task.

---

Q: What are the main differences between Business Studies and Enterprise and Marketing?
A: Please see subject videos below for more detailed information.

---

Q: What if my child changes their mind a few weeks into the school year?
A: Options can be tweaked before the end of Term 6, however once the course starts in September you will no longer be able to change your options.

Subject videos: