 Update to absence reporting
Published 02/10/23, by Megan Innes
Monday 2 October 2023
Dear parents and carers,
We are experiencing an increase in absence notifications that are not being reported through the correct channels and therefore not being recorded on our system.
To eliminate this issue and make the process smoother and more efficient for both parents/carers and school, we are reducing the number of platforms available to log absences.
From Monday 9 October 2023, parents and carers will have two ways to report absence for your child/children.
Leave a message on our school's absence line – Primary 01604 272572 / Secondary 01604 264320.
Edulink – reporting absence up to 5 days.
Our Schoolcomms text and email service will no longer be available to report absence after 9 October 2023.
In addition, emails sent directly to tutors or teachers to report absence, will not be recorded.
Please continue to complete a request for absence form, for 5 days or more of absence.
All absence reporting information can be found at Caroline Chisholm School - Absence (ccs.northants.sch.uk)
Regards,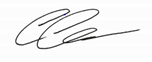 Ms Cheryl Glover
PA to Principal
Read More