PE at Home
We understand that if you're shielding or isolating it can be hard to stay motivated and keep active from the comfort of your own home, but our brilliant PE department have created an initiative called CCS PE at home! We will be keeping this page updated with new challenges to help you stay motivated and get involved with some fun PE activities either from your garden or even your living room. All the of the different workouts have the instructions included, so pick an activity and have fun
First up, we've got the PE Bingo Challenge Task...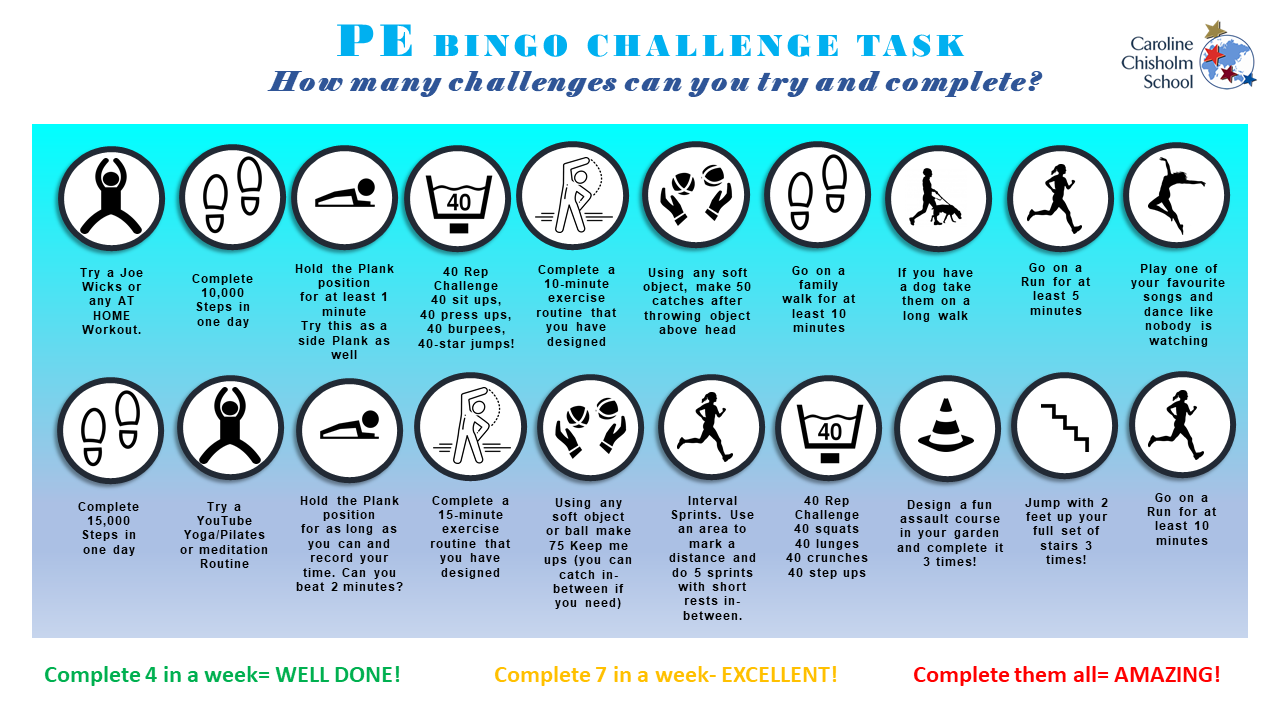 Bodyweight Challenges
Mr Halsey has put together a variety of Bodyweight Challenges for students to enjoy, these include a Thunder Plank Challenge, The Cha Cha Slide Plant Challenge and more! Click on the button below to find out more about the challenges.
BOP IT Workout
This challenge is a unique way to get creative and try to mix up your exercises while getting involved with others on your PE team.
Fitness Games
A fun challenge to mix up your exercises. These exercises can be done solo, or you can play the games in pairs while using a deck of cards or even a game of Connect 4.
Homecourt Challenge - Beat the Teacher
We are pleased to tell you about a new challenge were students can compete with teachers in virtual basketball training!
Monopoly Fitness Challenge
This challenge provides a fun way to workout with your family by taking part in a fitness version of Monopoly, players will take part in a variety of exercises including 30 second high knees, 10 side lunges and much more!
Pick and Mix workout
This is your chance to get creative and design your own workout circuit, we've compiled some inspiration for you as well a plan to add all of your chosen exercises. Click on the button below to download the presentation including all the important information for this task.
Roll A Dice workout
A fun way to get games involved with your exercise whether it be on your own or with a member of family or friend.
Staff workout challenge
Next up, your PE teachers have each created their very own workout for you to try, as well as some home HIIT workouts. A lot of the teacher workouts use AMRAP (as many rounds as possible) so why not start a competition with your friends to see who complete the most? We'd also love to know which teacher's workout is your favourite, so don't forget to let us know! Please click on the button below to download the presentation containing all the brilliant workouts and exercises for you to try.
The 100 Club
After Captain Tom's fantastic efforts to raise money from the NHS by walking 100 laps of his back garden, we're challenging students to complete 100 sets of an activity of your choice. This can be completed in just one day, or over a week period. Please download the attachment below for more information.
The Cube Challenge
Students have been set the fun task of creating a game for your family to compete in, we have set some rules that your game must follow, but its time to get creative and design something brilliant that your family will love!
We have created a presentation, containing some examples you could choose and the rules you must follow. To download, please click on the button below.
The Exercise Game
We're challenging students to complete this exciting PE exercise game, and then create their very own game to play with their family. This challenge will allow students to test their Meta-Thinking and Creating skills.
Virtual extra-curricular PE
Keep active this new year! Physical activity is so important for your physical and mental health, especially during lockdown.
Due to the current COVID-19 pandemic, we cannot currently provide an in school extra curricular timetable but we still want you to be active after school! Please take a look below at our weekly online virtual extra curricular provision.
Move it Monday - A challenge on a Monday to log how many steps or how far you have moved (walk/run/bike).
Time out Tuesdays - A link to a new weekly meditation video to focus on creating a positive and healthy mind.
Work out Wednesday - A variety of home based workouts designed by CCS pupils! A new workout every week that was created during the Pick N Mix PE challenge.
Finesse Thursday - Practice a skill of your choice at home in any given sport or activity. Record a video or send a photo to your PE teacher. Why not practice using the homecourt app that was a great success for home PE in the last week of term.
We'd love to hear how you get on with our new fun activities, so don't forget to tell your PE teacher when you see them in your PE lesson what physical activity you have participated in each week!
Full details of our week filled of fun activities can be found below: