Year 12 Lessons from Auschwitz trip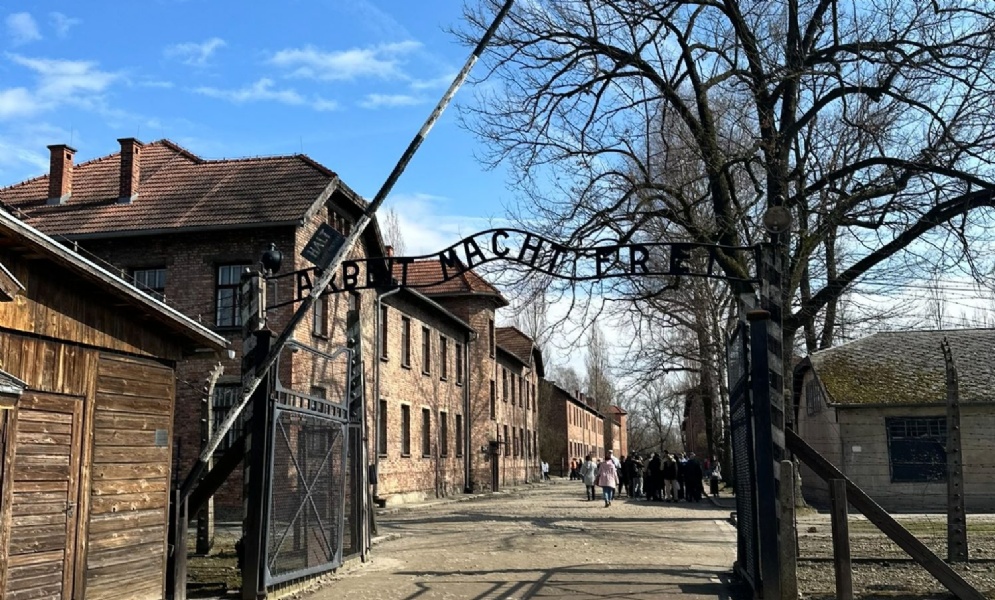 On Wednesday 22 March, three Year 12 students accompanied Miss Cambio and the Holocaust Educational Trust to take part in the Lessons from Auschwitz Project. This was an invaluable opportunity for students to learn outside the classroom.
The students started their day in the town of Oświęcim (Auschwitz) where they visited the local synagogue. Here they were able to see pre Jewish life in a town that had a high percentage of Jewish people and understand the vibrant background of a group that has been persecuted for years. They then continued to Auschwitz 1, receiving a tour from a historian and Rabbi, visiting cell blocks, the execution post and seeing exhibits of possessions - the proof of these atrocities.
Students were able to enter the gas chamber and crematorium at Auschwitz 1, the only remaining crematoria on site. The experience was hard hitting and difficult at times, but the students understood the significance and importance of visiting such sites. The focus was on humanising the Jewish people who suffered at Auschwitz and telling the forgotten story.
We then moved onto Auschwitz 2 where students saw the vast site of Birkenau, with 1.5km of wooden barracks, stretching as far as the eye can see. Our students at this site focused on the testimonies of the survivors and all three students took part in reading out these testimonies to the group. The day finished with a ceremony lead by Rabbi Eckstein, who sang the holocaust memorial prayer in Hebrew. Students lit a candle during this ceremony and laid it at the end of the railway line. A significant day for students, who now have been given the task of creating a project to continue the education of the holocaust further to our school community.