Day 1 - Year 7 Summer School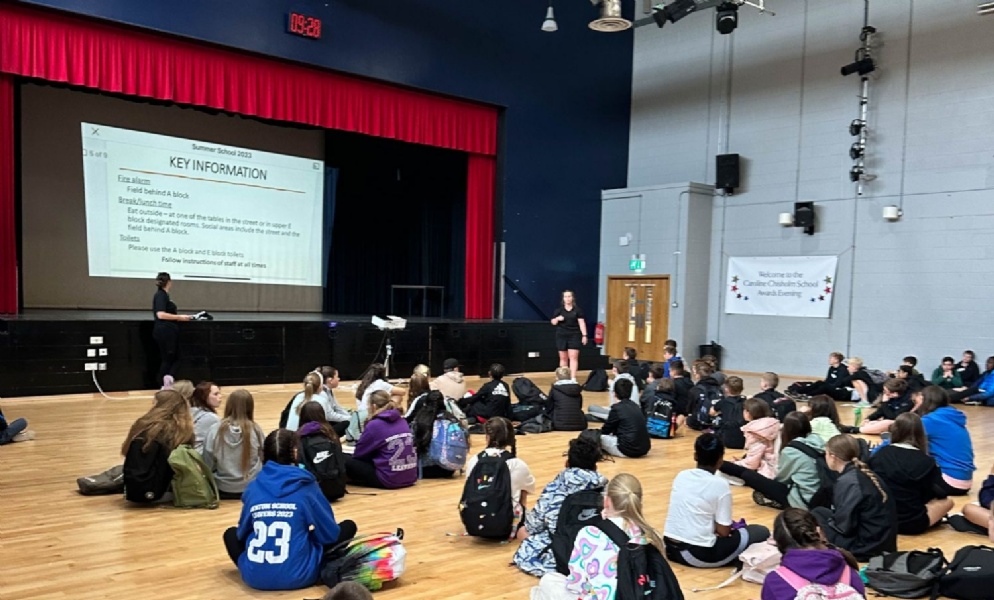 A brilliant first day for our Year 7s starting in September!
Despite the miserable weather, we have had a fantastic start to CCS Summer School for our new Year 7s.
We started the day with a few T&Cs and a welcome from Miss Roworth.
This introduction included the aims and focus over the two days. We want our students to focus on three high performance learning elements; empathy, agility and hardworking.
Throughout the day, we were able to see our students working well in teams, looking after each other and trying all the activities on offer. It was all about doing our best! Highlights included building a thrown for our VIP guests out of limited resources provided from the Science department, avoiding a giant pink orb in PE focusing on teamwork and agility, and of course the famous CSI Forensic Science Investigation Day. (Don't worry group Z, it's your turn tomorrow!)
During the CSI Investigation, students started out the day by learning the techniques of gathering fingerprint evidence, using the genuine forensic equipment of brushes and powders. Alongside this, they were taught about the uniqueness of fingerprints and DNA, including aspects of forensic genealogy and personal heritage and identity.
The first part of the day included the gathering of trace evidence, looking at hair and fibres under a microscope as a part of a forensic investigation, the use of Ultraviolet light at a Crime Scene and how to uncover footwear evidence at a Crime Scene. Students were able to create a take-home keyring of their unique fingerprint.
The second half of the workshop allowed our students to apply their newly acquired knowledge and skill set to an investigation of a crime scene in their team. By gathering and analysing fingerprints, trace evidence and contextual information at the same time as working within a team, using communication and collaboration, as well as evaluation skills; the students were able to draw together the evidence to discover who the main suspect is in the case, snazzy outfits included.
Being agile allows our students to be curious and get fully involved. We witnessed students not giving up and preparing to be challenged throughout the day and as a result the confidence levels soared. We cannot wait to see what tomorrow has to bring, including some much-needed sunshine!
We look forward to seeing you all tomorrow!