A Level Results Day 2023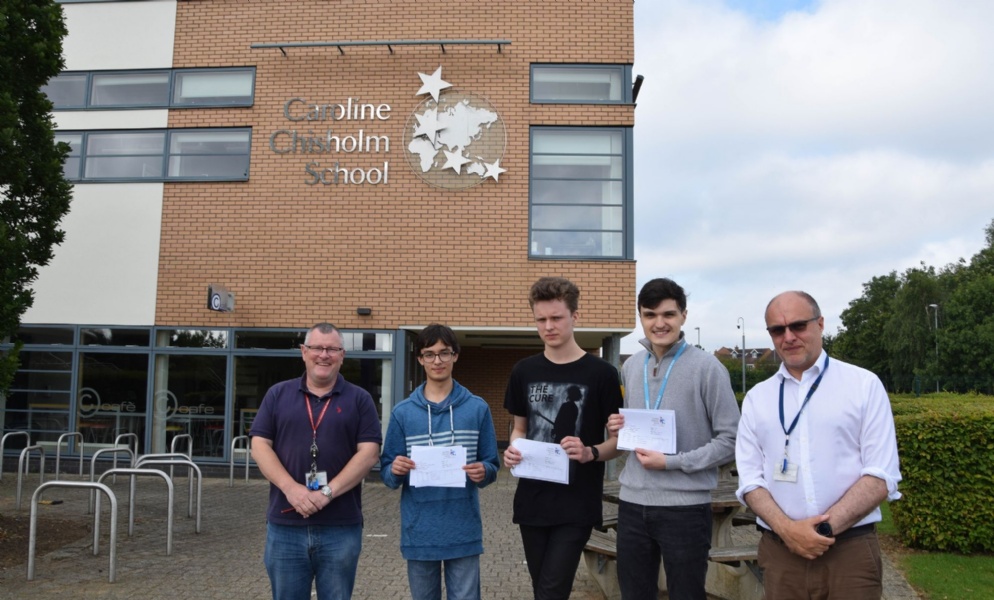 A Level Results Day success at Caroline Chisholm School as students celebrate another year of incredible results.
Year 13 students at Caroline Chisholm School gathered this morning to honour their outstanding A Level achievements, joined by their peers, teachers and family.
Principal Mr David James, said: "It was a pleasure to welcome so many students from our Year 13 cohort into school this morning to receive their results. Seeing their celebration first-hand, of not just their own personal achievements, but those of their peers too, was something incredible to witness.
"Students have achieved very well in their results, 72% of grades achieved at A Level were A*-C, with 16 students securing 3 A grades or above. The positive outcomes of our students are a testament to their attitude to learning and hard work which has been put in over the last two years, and I am immensely proud of you all".
Assistant Principal with oversight of KS5, Mrs Porsha McTaggart, also adds: "I am incredibly proud of the achievements of all our students in the sixth form, our staff continually strive to ensure everyone every lesson has every opportunity to achieve. These are the first set of public examinations this cohort has taken after their GCSEs were cancelled due to the COVID pandemic.
"Our young people have coped with disruption to their learning and faced uncertainty and pressure throughout their critical examination years. I am delighted with the results, which reflect this cohort's hard work and perseverance. It has been an extremely demanding time for them all, but happily, the overwhelming majority have been accepted onto the various destinations of their choice. These include University, Apprenticeships, and Gap Year programmes."
The Sixth Form Team are extremely proud that Sixth Form students have and are still accepting their first-choice places at university; early indications show that 61% of students have secured their first-place choice.
Three of our top performing students (pictured above with Principal Mr James and Head of Physics Mr Robson) have all secured their first-place choice to study Mathematics at Warwick University; Sam Jeffreys - A*, A*, A*, A; Jacob Millichamp - A*, A*, A* and Daniel Jordanou-Bailey - A*, A*, A.
An honourable mention also goes to Eleanor Dunkley, who has used high-performing qualities to overcome many challenges during her sixth-form experience. We are immensely proud that she was able to achieve A, A, A.
We wish all our students good luck in their next steps their future pathways, and look forward to hearing about your achievements in the years to come.