Proposed Admission Arrangements 2023-24
We are proposing changes to our admissions policy for Caroline Chisholm School for the academic year commencing September 2023, and are currently consulting on those changes.
Children in our primary phase will still continue to automatically transfer to secondary phase at the end of Year 6 and students in Year 11 will still be offered places in our Sixth Form, subject to meeting minimum entry requirements.
What are the changes?
We are proposing the following changes:
Moving children of staff higher up the priority in our admissions criteria;
Adding a sibling link between each phase of our school;
Adding Hardingstone to our current linked area for admissions;
Reducing the external Sixth Form published admissions number to 30;
Creating one Admissions document, adding clear definitions, and outlining our criteria all in one concise document.
In recent years, we have seen an increase in our admission number in secondary phase of children from areas outside of our linked areas. Equally, we have also seen a decline in applications for children of the relevant age in Reception which means that there are adequate places for the children of families in our linked area, and places available for those living beyond.
In addition to our underlying principle of community cohesion, we believe our principle of family cohesion is equally important for families to be able to send children from the same family to the same school. We, therefore, wish to widen our linked area to include Hardingstone, which is adjacent to our linked area for admissions, an area from which we have seen an increase in applications in recent years.
We also believe that it is important to be able to support our staff in delivering excellent teaching and learning to our students, and we wish to welcome their children into our learning community and give them a suitable choice for their children's schooling.
The formal consultation process will be co-ordinated by West Northamptonshire Council and will be available during the period Monday 8 November 2021 and Monday 31
December 2021.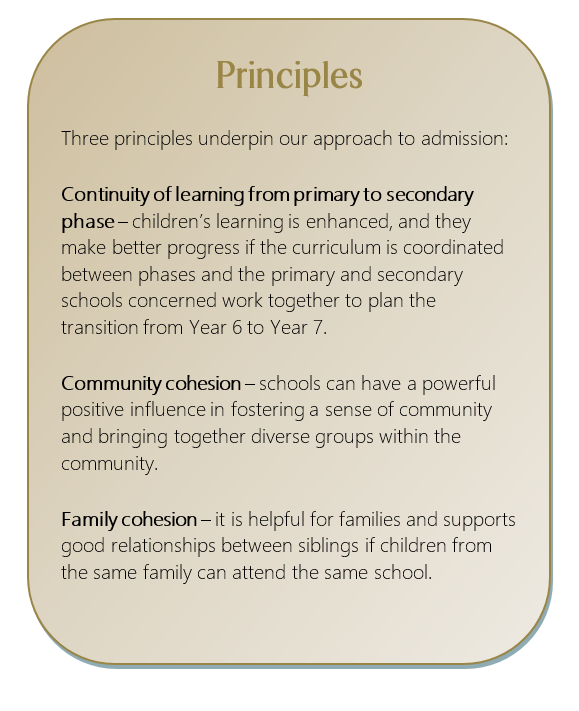 When will these changes take place?
The proposed changes will take effect for the academic year 2023/24 commencing on 1 September 2023.
Click here to see a copy of our proposed Admission arrangements for 2023.