1. Mindset shift
All leaders, teachers, students and stakeholders assume that high performance for most is a possible outcome.
All leaders, teachers, most students and their parents demonstrate their belief that high performance is possible for most. This is evidence across all phases of the school; from foundation stage through to key stage 5. Each phase has adapted the communication of the mindset through age-appropriate methods. (28, 25, 25a, 17, 6.)
Training at all levels has reinforced this idea. Formal training day sessions have had considerable impact on establishing the mindset as integral to our vision (2, 4, 8, 13 every training day has seen HPL at the forefront). Training has been extended to administration, support staff, new staff (6) on induction days and as part of the ECT programme. Plus, long term supply staff have received training to ensure they too deliver on our philosophy. (29, 6).
We communicate the HPL philosophy, which is at the heart of our provision, to existing parents (30), and to prospective/new parents/students. (30a, 30b, 30c, 30d).
The entire school community understands and is committed to High Performance Learning.
HPL is evident in all aspects of school life: for example, on meeting agendas for whole school focus and on RAP documents for each faculty (31), on display boards (22a), in appraisals (27). We are committed to helping students not only 'know' their curriculum content but be equipped to apply that knowledge.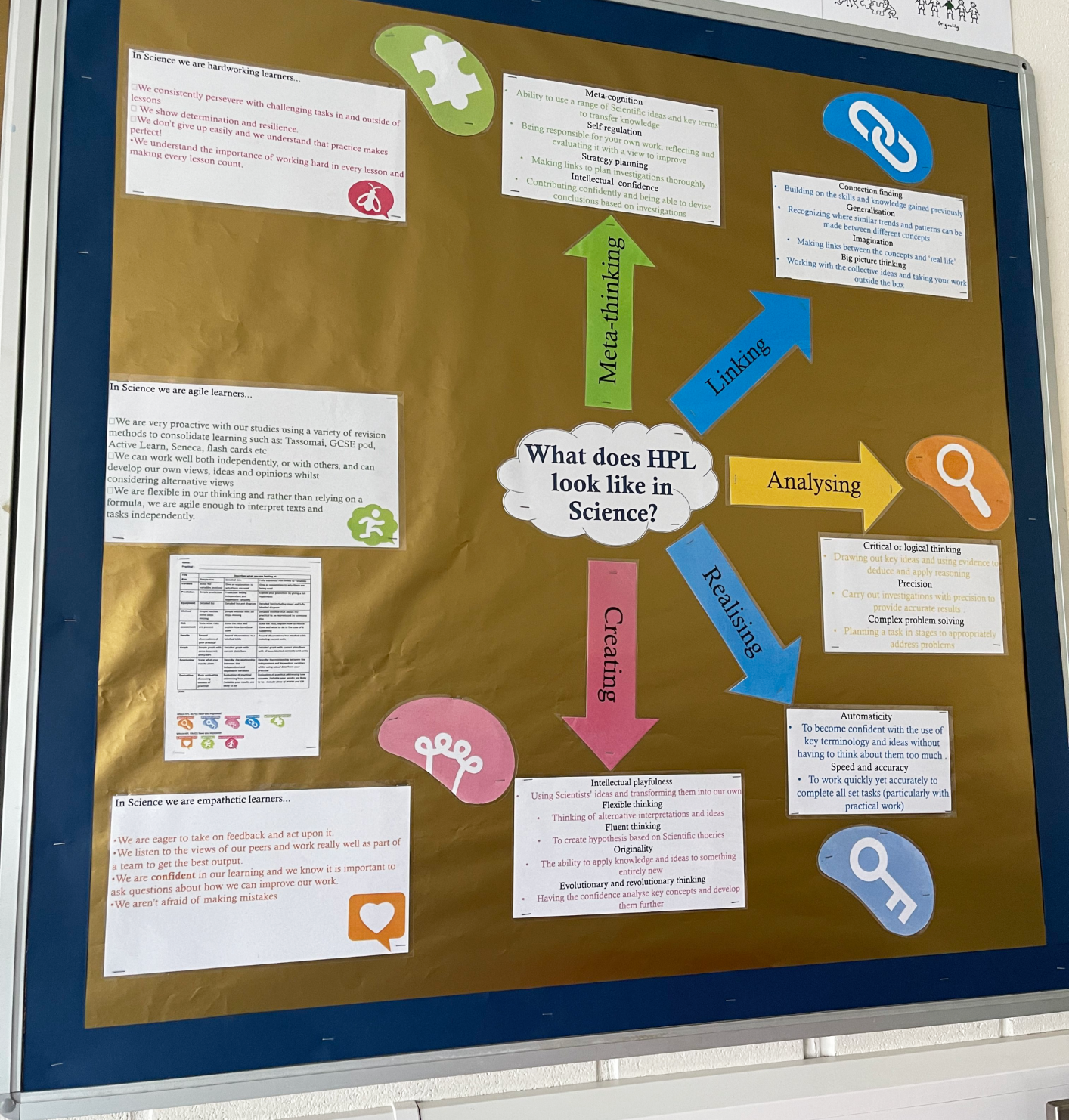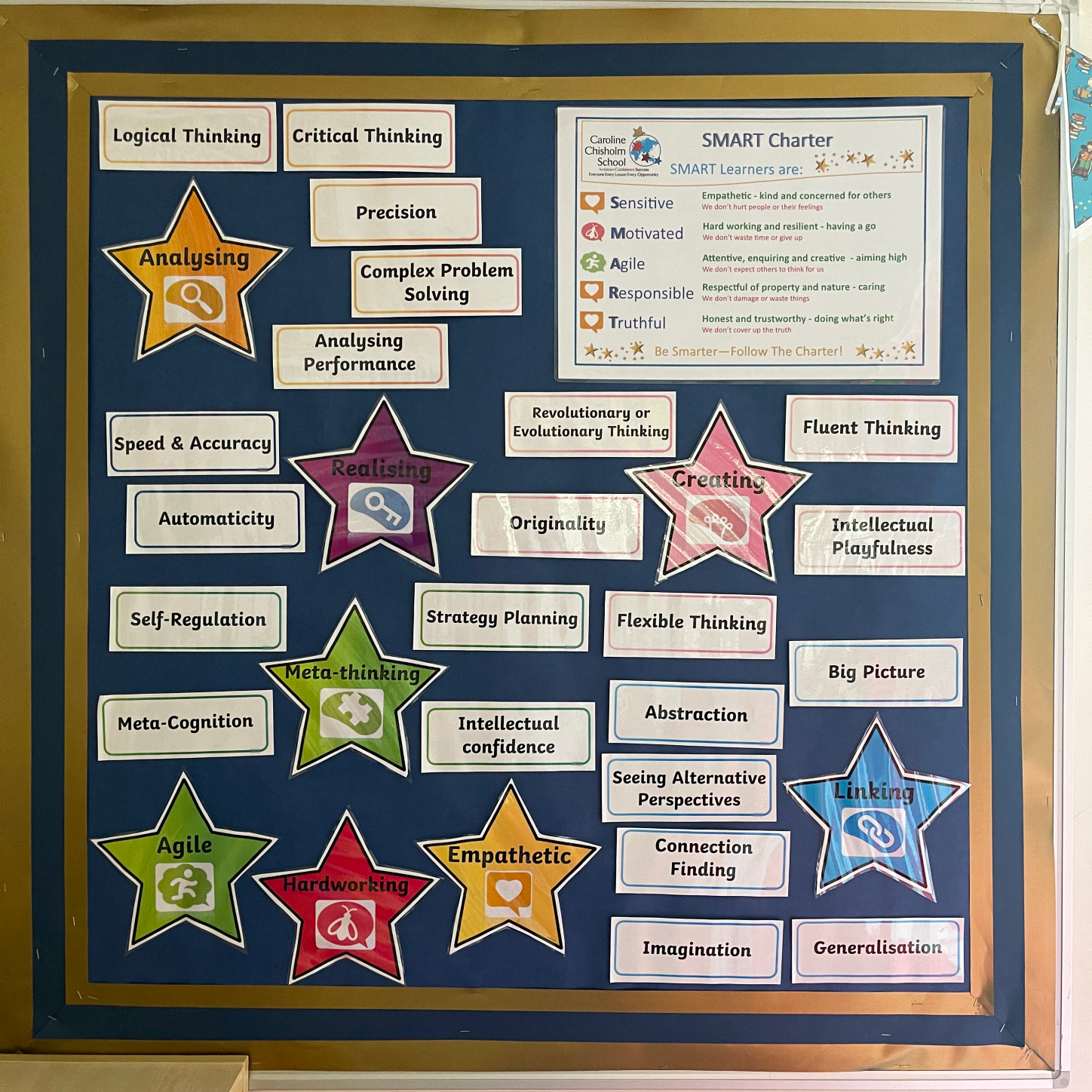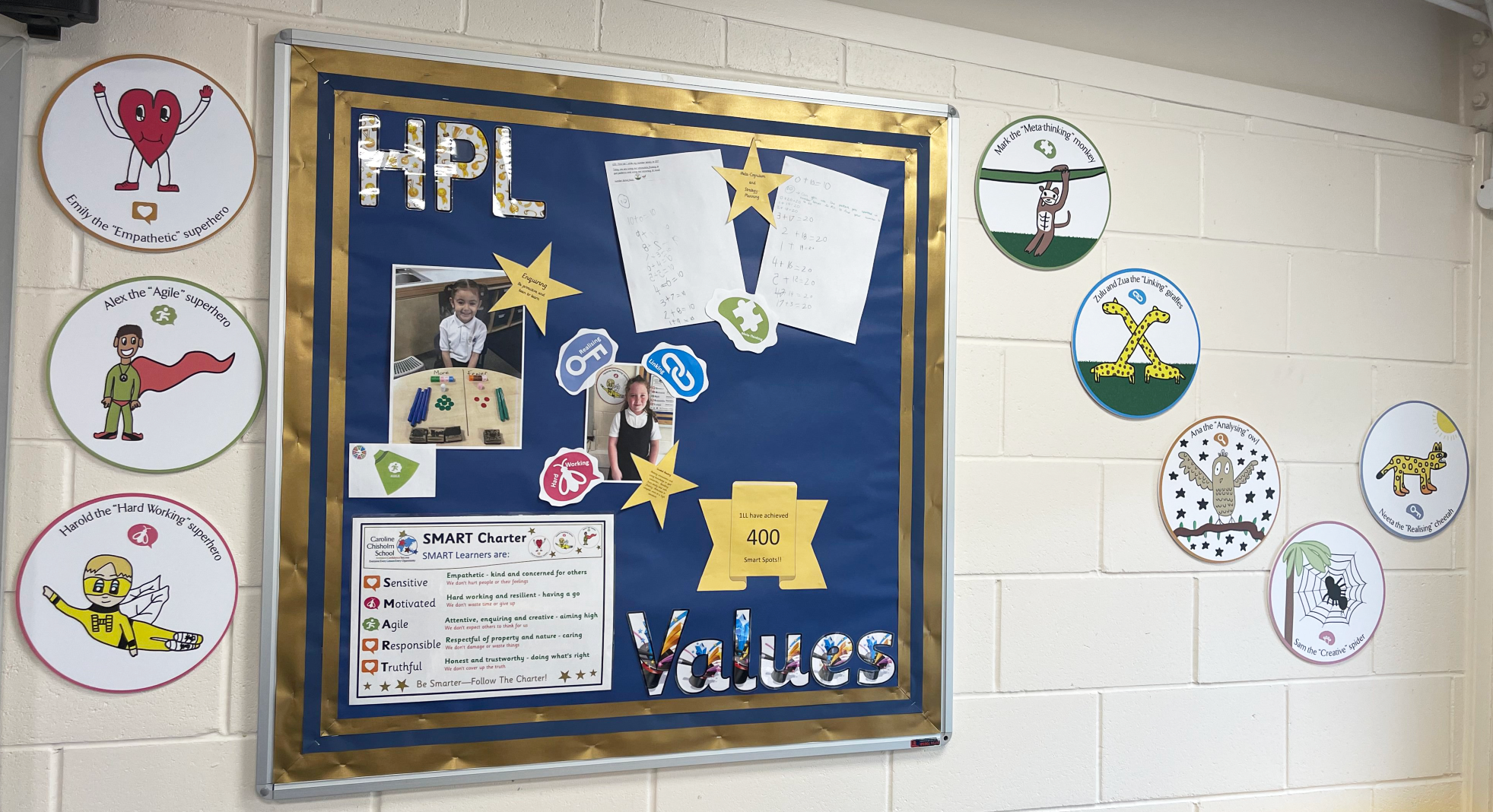 We set up HPL working groups in 2018/19 – which helped forged a collaborative approach towards all staff embracing and developing HPL mindsets. These were led by members of staff who demonstrated full commitment to the process and could meet and lead the sharing of good practice. (2).
We utilised time during dedicated briefings to share good practice. (32) Plus, our weekly focus on key ACPs/VAAs – shared visually as the wallpaper screen on all PCs – also help demonstrate our continuous commitment. (15b, 15c).
Appraisal objectives for all staff – including administration staff – include clear and specific HPL objectives with specific criteria provided. (14, 27, 27a).
Furthermore, the school environment has been updated to reflect HPL philosophy – consistency of message with appropriate application according to age of student and work environment of the adults within the school. (22)
We asked all faculty leads to update SOWs to include explicit ACPs and VAAs, and individual teacher planning also demonstrates consistent, all-through focus. (33)
Furthermore, we have seen a shift in classroom practice over the past 3 years. The school's expectations towards teaching and learning have changed the pedagogy of most staff. (34 Evidence: the CCS lesson document from Sept 2021 training – demonstrating enquiry-based learning as a key method.)
HPL ambassadors/champions have been active in supporting their forms having been trained in HPL philosophy. They are currently leading the inauguration of Covid project. (35, 35a)
Trustees are informed regularly on the progress of HPL as a whole school priority/project. Our trustee for curriculum met with our student ambassadors to discuss HPL development. (26)
Parents are deeply involved in helping their children to become high performing learners.
Communication with parents shows how we encourage them to share our vision and support students in the development of ACPs and VAAs. (36, 36a, 36b, 36c). We are also encouraging parents to share examples of their child's ACP and VAA development beyond school (36d, 36e).
Live lessons during covid helped parents see HPL in action. (20) Whilst students were working from home, parents had access to view our expectations and student support (10, 10a, 16c).
Parents' evening – although limited throughout the covid – focused on students' developing ACPs and VAAs. (37, 37a, 38)